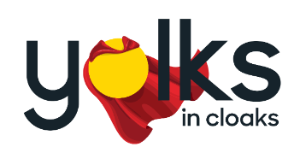 Using our success to influence and foster a brighter, sustainable and more accessible future for all
We will achieve this by working with our local communities and business networks to ensure the future of recruitment is as inclusive as possible, and that the cities, towns and villages that we work in and call home can continue to flourish and inspire us.
---
​
Our 3 Pledges
We are working towards the Yolk Ethos via a number of ways. This is broken down into our three pledges that we feel will help us affect the change we are working towards.
1
Giving back and inspiring change
​

​
Yolk have run fundraisers for many years for charities including Llamau,Cancer Research Wales and Maggies Cancer Care . We've run initiatives throughout the years including bake-sales, clothes donations, internal events and marathon walks & runs.

In 2022 we got together with a range of our clients and put on a Charity Golf Day. Throughout the day we managed to raise over £5,700 for our charity partner Llamau at Yolk's Charity Golf Day.

For Christmas in 2020 and 2021, we took part in The Wonderful Xmas Post campaign which focused on making sure senior people living in care homes received Christmas cards and messages after a year of lockdown and not being able to see relatives.

We have also taken part for numerous years in The Rhondda Cynon Taff's Christmas gift giving campaign where Yolk staff donated presents to families who weren't able to afford presents that year. We were able to donate 120+ presents and even got the other businesses in our building in on the action.

2
Accessible careers and inclusive recruitment for all

​
We run our own podcast called Yolk's Diversity Champions Podcast. To date we have interviewed different guests including Welsh Water, Careers Wales and The Intellectual Property Office. We have interviewed a range of different business leaders and discussed their diversity & inclusion initiatives to help educate ourselves and other companies on how to ensure your recruitment and work environment is as inclusive as possible.

Yolk Recruitment are incredibly proud to be a registered member of Disability Confident, a government run scheme whose aim is to ensure employers and businesses realise the potential of disabled people and recognises the talents they can bring to the workforce.

Yolk Recruitment is proud to be a supplier to the prestigious

Crown Commercial Service Framework. (Lot 2 – Non-Clinical General Recruitment -

Permanent Recruitment - RM6229)

. The framework exists to help Civil Service organisations achieve value by buying as a single supplier. Our track record of identifying and placing the highest calibre of candidates across a multitude of sectors, along with our commitment to customer service, means we are ideally placed to support the public sector, not for profit, charitable organisations, housing sector, education and NHS as it streamlines the way they approach recruitment. Click here for more information.
​
3
Working towards a sustainable future
​
​
2022 saw us plant 1,100 trees locally in our biggest campaign to date – Yolk's Oaks. Our day-to-day work as recruiters helps the business landscape grow, so why not our environment too? Sustainability is a core ethos to Yolk – you can find our trees in the Blaen Bran Woodlands in Cwmbran. A year down the line we continue to return to the woodlands to help nurture the new trees.

We have previously partnered with Keep Wales Tidy to help clean up the streets of our local city, Cardiff. Our team have braved the Welsh weather and littered picked along the famous River Taff to ensure our local beauty spots stay just that; beautiful.

We run a number of sustainable initiatives within the company including recycling litter, timed lights to ensure no wastage of electricity, a bike scheme and remote working options to limit on the need to drive/transport to work.

As part of our senior leadership team contract, directors receive a company car. In 2020, we switched to rolling out Yolk's first electric company car.
---
​
Why this is important to us
Over our 10+ years of business, starting as a team of 2 in 2009 to a company of 40+ employees, we wouldn't have been able to achieve our success without South Wales' thriving business networks, supportive communities, and the ever-encouraging Welsh spirit of those around us.
Having reaped the benefits, we want to share this by offering a helping hand to continue to build South Wales as a destination for businesses, professionals, and the communities around us. Together we are building careers, bright futures and more routes to success for everyone.
Yolk Recruitment wouldn't exist if it wasn't for the success of the individuals and businesses we work with, from candidates and clients through to our own employees.
To succeed we all need to succeed together. Now more than ever.
​
---
​
Contact Us
Do you want to help us in achieving the Yolk Ethos? We're always looking for new charities, businesses and people to work with across all of our corporate social responsibility activities. If you would like to get in touch with Yolks in Cloaks about new CSR initiatives, or simply would like to discuss any of the points above, let's have a chat.