The Challenges
HR function: the potential down-sizing, or loss, of your HR or Talent Acquisition function due to financial pressures
Business restructure: restructuring your business and/or departments and adoption of flexible ways of working
Health & safety: implementing social distancing measures to ensure the safety of your workforce and monitoring employee mental well-being
Recruitment strategy: scrapping and rewriting your recruitment strategy
Redundancies & outplacements: difficult decisions to be made in regards to redundancies and the need to offer outplacing solutions to staff being made redundant
Extra demand: Alternatively, your business could be thriving in the new economic climate and you need support with a boom in recruitment
Resources: need access to collateral to share internally to keep staff educated on remote working best practices.
---
What's your plan?
We're all facing unparalleled challenges and new obstacles we hadn't originally planned for, and we'd like to help businesses weather this uncertain time and come out the other end fighting with their business still in a healthy condition.
As a cross divisional agency, Yolk have access to a plethora of resources and businesses.
Whether that's clients we're servicing within the manufacturing industry who have been operating and growing through-out the lockdown, IT start-ups who have been hiring remote workers since the dawn of time, or back office support staff who are keeping their finger on the pulse of how to develop new ways of working.
Yolk are able to borrow and glean ideas, practices and new processes from a variety of sources and clients we are working with, and when combined with our thorough knowledge of the recruitment industry and a combined total of 100+ years of workforce management know how, we're offering clients a bespoke recovery model for their business.
---
What Yolk can do for you
We'll act as an extension to your HR team
Offering guidance and advice at one of the most critical moments in your company's history
Access to cross divisional knowledge
We work with people in the Engineering, IT, Legal,Sales, Marketing, Office Support, HR and Finance sectors
Workforce Management Solutions
We can be a support to your internal recruitment teams assisting with workforce management
Coordinated Recruitment Services
You'll have access to Yolk's wide range of services, from managed services to temporary workers
Outplacement of staff
We can help outplace staff you've unfortunately had to make redundant
An adaptive approach
We'll keep evolving the bespoke plans we work on together as new information is released by the government
An on-site Yolk account manager
We will give you a dedicated Yolk account manager from a specialist division that aligns with your business. We can then work out a schedule for them to be on-site with you for the on-going project.
Advice on health and safety protocols
We have a wealth of knowledge and resources on the new working world that we can share with you including information on the new health and safety measures required from your work facilities and how best to keep your work force safe.


The Process
Recruitment done right takes time. But the long term benefits it will have on your business are huge. There isn't a one size fits all solution for businesses, so every project will differ, but here's the initial plan to show how we would work together over the course of 12 months: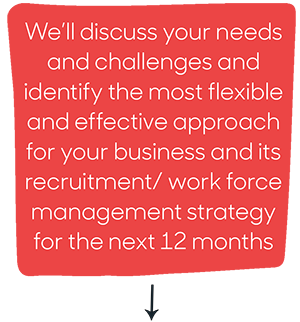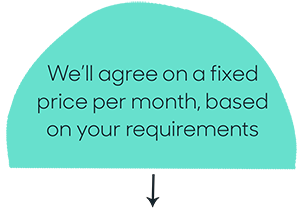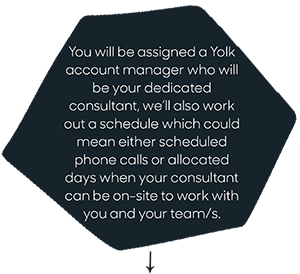 How we have achieved this for other businesses
We've worked with a wealth of clients in a similar manner. Before Covid-19 we'd partnered with clients to deliver project driven recruitment solutions, and during Covid-19, we have worked with businesses that needed to adapt their employment scope due to the pandemic. Here's a couple of examples of those clients:

"Yolk were a huge help when BookingLive began hiring for new developers based in Cardiff. Yolk's Technology & Digital team have an excellent grasp on their industry, they took the time to not only understand the role and tech stack, but BookingLive as a company to ensure the candidates they put forward met the requirements of the role in all aspects. Yolk go the extra mile when it comes to the entire recruitment process and provide a refreshing, consultative approach.
They gave us advice and guidance through-out the hiring process, reacting to our requirements quickly with unbiased and honest feedback.
Yolk offered us access to their office space which was really helpful when meeting local talent in Cardiff. Yolk have also been involved after the placement, ensuring the candidates settled in well which was especially important when on-boarding new starters during the start of lockdown.
The team at Yolk are personable, professional and helpful. It was a pleasure partnering with them on our recent recruitment drive, and we're looking forward to our next intake when we can work together again."
Louise Chawich, Chief People Officer

---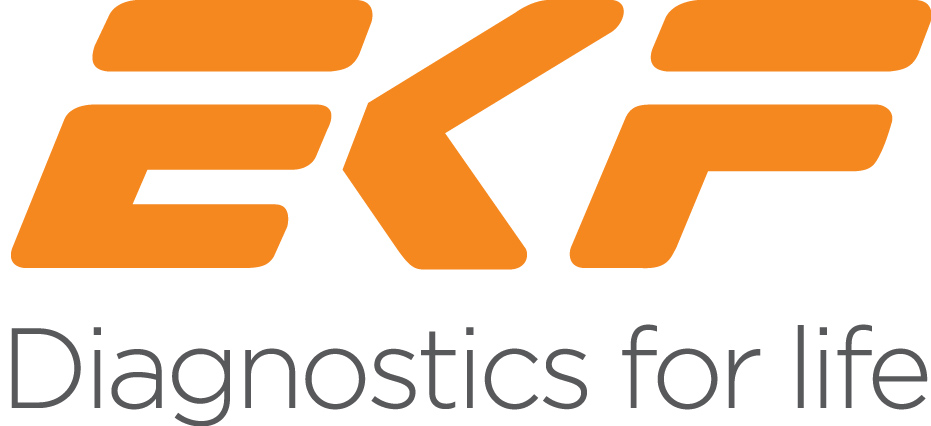 "Having already worked with Phil and his team on permanent recruitment projects, it was a no-brainer to turn to Yolk Engineering when we had a sudden need for a temporary team
of Production Operatives.
With temporary recruitment being a brand new way of hiring for us, partnering with Yolk meant the project was tackled swiftly, we were confident that the best candidates were delivered, and we've been able to hit our strict deadlines on time. Relying on their recruitment knowledge and processes has been incredibly important when getting the new team recruited, on-boarded, and the financial and legal admin sorted immediately.
With the impact of Covid-19 meaning demands are high for medical diagnostics businesses such as ourselves, we can't recommend Phil and his Engineering recruitment team enough when it comes to delivering a professional and quality driven service at speed, especially during such a turbulent time for many businesses."
Gary Dowthwaite PhD, Special Projects Coordinator
Partner with us to ease the pain of coming out of Covid-19
We're here and ready to talk. Whether it's to discuss a few points that you've seen above, or to hear about the full recruitment services we can offer you. To get things started, if you could please enter your details below and Dale Williams, Yolk CEO, will be in touch to discuss further.