Yolk launched its biggest social responsibility campaign Yolk's Oaks at the start of 2021 with the announcement that we would be planting a tree for every candidate that we place.
Over the last 7 months, it's been a joy to see our CSR initiative hit its stride as we've been monitoring the oak trees to be planted in our dedicated plot of land at Blaen Bran Community Woodlands in Cwmbran.
One of our most productive recruitment partnerships from 2021 (and prior) has been with EKF Diagnostics, and we're thrilled to say that as a direct result of our business partnership, we will be planting a total of 49 Yolk oaks trees on their behalf and the talented candidates we have placed with EKF.

​
Yolk Engineering and EKF Diagnostics have worked together for a number of years, with our recruitment partnership picking up pace in 2020 as the demand on their business increased.
EKF manufacture a sample collection device called PrimeStore® MTM. PrimeStore® is now being supplied to NHS laboratory testing services as the safest forms of sample collection and transportation in the world.
With the requirement for the NHS meaning manufacturing of the device in the UK needed to be stepped up, it meant there was the need for more staff. Through the course of the partnership so far, Yolk have provided EKF with 100% fulfilment on their recruitment projects. As well as a team of permanent staff in Scientific, Supply Chain, Leadership and Quality functions, Yolk have placed 49 temporary candidates at EKF. Read more about our recruitment work with EKF here.
Between EKF, the candidates, and the Engineering recruitment team here at Yolk, on average we'll be helping to absorb 49 tonnes of CO2 through each little sapling's lifetime. Planting new trees has been proven to be an effective way to fight the current climate crisis and helps us in the journey to stabilise our climate. The oak trees which are native to the region will also be supporting the local woodland to flourish and providing habitats for its diverse wildlife.
The trees are to be planted at the end of the year in Blaen Bran Community Woodland, a 100-acre area of privately owned woodland above Upper Cwmbran in Torfaen, run and maintained by a local community group.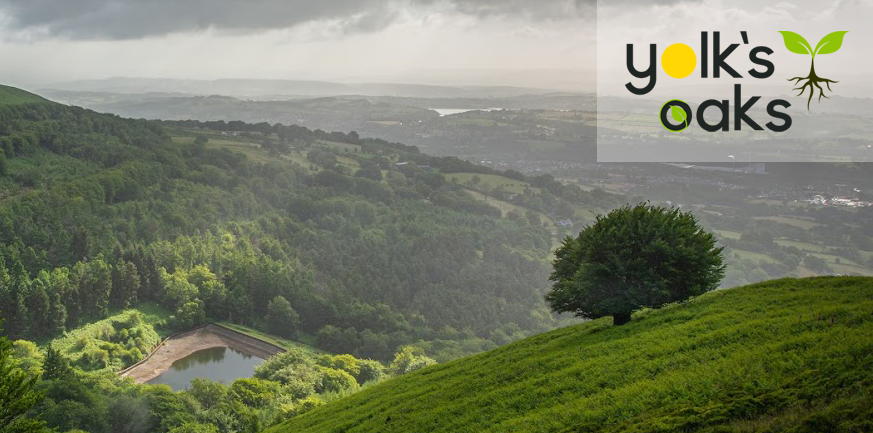 ​
Yolk couldn't be happier with the continued success of our partnership with EKF Diagnostics as we've been a part of facilitating their business growth while simultaneously helping to grow the green spaces of our home.
Stay tuned for more Yolk's Oaks updates on the trees we will be planting on behalf of our clients and candidates.
Don't just grow your team with Yolk, grow Wales. To get in touch with Yolk regarding business opportunities and to join the Yolk's Oaks initiative, please contact David Jenkins here.
Find out more about Yolk's CSR committee and activities: