We live in a digital age, and there is no doubt our future is amalgamated with this.
For the past 2 years we have spent more of our lives online than ever before. There's an overwhelming consensus that the pandemic accelerated the inevitable dependence and allegiance with digital platforms, and this has been glaringly obvious across an array of industries: retail, education, and office-based jobs instantly stand out.
From a design perspective, trends tend to evolve from necessities, and this has forced businesses to invest in their digital presence with website design seeing an increase in demand.
So, what does all this mean for traditional mediums such as print? It's a topic that keeps coming up due to the dramatic change in our lifestyles, and this unprecedented and unpredictable change is encouraging some creative professionals to upskill, with illustrators and graphic designers seeking courses in UI and UX design.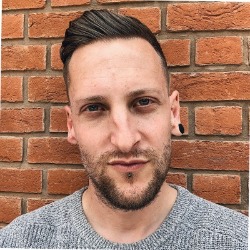 The statement 'print is dead' has been uttered over and over. But as we start to get used to life with a virus that isn't going away any time soon, it may be worth challenging this narrative to foresee the future of print and design.
After recently visiting Aaron Miller at Havas' impressive Cirencester village, I thought 'who better to ask'?
Graduating with a degree in illustration and progressing to Design Lead, Aaron works across both digital and print, and he's on the frontline to gather the invaluable views of his clients.
Q1 How much has the industry, and your clients' expectations, changed since the start of the pandemic?
Great question, it all seems so normal now that it's hard to think about life/work/the industry pre covid. March 2020, a distant memory now but I think expectations have shifted and become even harder to meet. I've found that we have become very reactive to our clients' needs and asks. This is due to the ever-changing landscape, Covid-19 rules changing frequently, as well as customers dependant on instant updates and access to information. Behaviours in how we consume data have shifted, the pandemic completely rewrote the rule book and some of those rules are hard to break.
Q2 As we are approach the 2-year mark since the beginning of the pandemic, and people are still saying 'print is dead', what are your thoughts on this, and are you hearing a different message from your clients?
Print will never die, and I'll forever be flying this flag. When you receive post, it gets your full attention. You stop what you are doing, you ask yourself who is sending you a letter? It's 2022! But you pause and focus on the print. The tactile nature, the feel, the print quality, the smell of the ink, it's all encapsulating. Print obviously slowed during the pandemic, businesses closing, paper being hard to source but the importance of DM and print will never die. It's special, it's sought after, it's powerful in delivering a message.
Q3 Digital platforms can provide your clients with valuable analytics that provide insight into the performance of their advertising. However, we are seeing a resurgence in traditional values, e.g., an increase in vinyl sales in the face of a Spotify dominated era. Can you see something similar happening within your world? Can this go against the 'print is dead' narrative?
I touched on this earlier about how the pandemic has changed how we consume information. The QR code for example, before covid you couldn't scan a code very easily on your smart phone without downloading a specific app, people hardly used them. Now we are so used to checking in, scanning a code for a menu at bar or to simply access a URL without having to type it in manually. Royal mail this week have announced some updates to their stamps, the biggest update in how post is handled in over 150 years. The ability to add a URL, a video, a message or for them to track post. This in itself is going to feed into print and direct mail for sure. So, for me, this is another measurable way of delivering a campaign for our clients. Before someone has even opened the piece of print, you can be directing them towards a digital avenue.

​
Q4 As a graduate with a degree in illustration, did you consciously guide your career path towards the role you do now, or was there more of a natural evolution of circumstances?
Yes, I had an unusual journey into design really. I knew I wanted to be a creative and work in the industry since falling in love with design when I was on my Art Foundation course. After leaving Falmouth in 2008, I was fortunate to land numerous clients straight off the back of my end of year show and DN&A New Blood exhibition in London. I freelanced as an illustrator for years and years, eventually taking on working as a pizza chef on the weekends and freelancing in the week.

I then took a job at a school as an Art Technician and TA. It was here where I was exposed to the mentoring, the support, and the teaching side of things. I knew then I wanted to get into design and work my up to a position where I was able to support and grow a team. Seeing juniors flourish and find their creative voice is the reason I enjoy my role so much. I was lucky enough to land a junior role, even after being in the industry for about 6 years due to not having 'industry experience as a designer', soon enough I worked my way up to senior designer, probably within a year or so. I worked at Havas for a week as a freelancer, ended up staying 7 months and eventually got offered a job and progressed to Design Lead about 4 years ago. I think my natural desire to help, and support means my role is the perfect balance of being hands on, supporting a team as well as inspiring and elevating the work coming out of the department.
Q5 What advice would you give to someone exploring design opportunities, or considering a creative degree? Would you make them mindful of developing web/digital design skills?
I think the whole 'X amount years of experience' is complete nonsense. When I am recruiting and building a team, experience and work history means nothing to me, it's all about personality and drive and having a natural design eye. You can teach software, a company's way of working but you can't change someone's natural inquisitive nature and desire to produce great work and have fun and enjoy it along the way. This is my approach and I know everyone is different, some companies have super strict recruitment process, but my advice is stalk someone on LinkedIn, message them, be human, don't write the generic cover letter. Tell them why you want to work together - why you? What can you bring and offer them what no one else can?

It's difficult trying to land that first job, getting your foot in the door. I see so many talented designers applying for roles at Havas, but they are lacking in demonstrating the type of work we do here. Yes, their portfolio is full of beautiful branding, illustration and type projects but we aren't that type of agency. Understand the role you are applying for, cater your portfolio, and CV to match. Pointless showing packaging work if the company specialise in social for example. Show your working. Yes final, polished work is great but I'm all about the journey, not the end destination.

Learning the tools is super important. At mid- senior level roles there is an expected you know the basics, Adobe suite (include XD) along with newer programmes like Sketch and Figma. The digital design scene is processing at such a speed that it's easy to get left behind if you aren't keeping up with industry standards and ways of working. There is so much resource available to those who need it now. YouTube, Skillshare, etc you can pretty much learn anything over the course of a weekend or in your evenings if you are hungry enough.

I am a big believer in continued learning and self-development. I for one am far from the finished article and this is an ethos I distil down to the designers I work alongside. Be a creative sponge, be curious, ask why and shout about your work. Even for those thinking about going to university or college to learn more about design or any creative subject, learn as much as you can from those around you, your peers, your tutors, people in the industry. I would have to have been a student now with all the access to information and opportunity. The future is exciting.
​For more information regarding creative/design recruitment opportunities, or to discover more about the current recruitment landscape for designers, speak to Dan Thomas.

​Daniel Thomas
Senior Consultant
Tel: 02921 673743
​
​
​