The Importance of Employee Engagement
Employee engagement is a workplace practice to create a culture of trust, empowerment and belonging – the drive to want to come to work and do more. When employees are engaged, they do their best work to achieve the company goals, and this engagement affects more than just achieving targets but profits, customer experience, turnover, company culture among many other things.
There are many different definitions of employee engagement, not all fully agreed upon across the board. Generally, employee engagement is not the same as employee satisfaction, or happiness, but is often linked. There's been a lot of talk about "quiet quitting" lately: the practice of doing the minimum at work with no emotional attachment. When you keep these concepts in mind, employee engagement can be thought of as the antithesis of the quiet quitting movement.
According to Gallup, 79% of employees are not engaged – or actively disengaged – at work, so if you're looking to be better than your competitors, it's not difficult to stand out from the crowd by making your workplace a friendly and exciting place to be, where people want to come to work. It's no wonder then, that employers are reviewing their packages in a candidate-short market in order to attract and retain the most talented individuals in their sectors and keep their employees happy.
Changing job benefits
While changing employee benefits won't address root causes of active disengagement like poor management or employee burnout , it can help foster a company culture that encourages people to do their best. When looking at your benefits, think about what you'd like to achieve as a result of your changes.
Presenteeism
Presenteeism occurs when an employee is at work and always contactable – whether they're unwell, on holiday, or working more hours than they're contracted for. This leads to stress within the employee, poor mental health, or even an infectious outbreak within the office. The reasons they continue to push though are down to the individual, but might be to do with unreasonable workloads, job uncertainty or poor sick pay structures. Where presenteeism is a problem, it might be good to look at your sick leave policies as a first action for those working while ill.
Work/life balance
As businesses embraced a more flexible way of working in 2020, one of the biggest benefits it had for employees across the globe was an increase in work/life balance. People saved time and money by not travelling to work and found that they were generally happier as a result spending more time at home with the family. Allowing flexibility with hours worked even better, allowing employees to fit work around their personal lives such as being able to pick up children from the school run. Hybrid working did, however, blur a lot of boundaries between work life and home life. Do your employees feel like they have a good work/life balance? It might be time to review your policies and see what you can do to make flexible working work for both parties.
Mental health & anxiety
With mental health challenges on the rise from people going through multiple challenges such as the pandemic and cost of living crisis, some employers are looking to implement mental health packages into their benefits. This might be counselling sessions funded by the employer, mindfulness apps or mental health days off. We also touched upon mental health & employee wellbeing and the employer's role in managing this in a previous HR insights session. Increased holiday entitlement can help staff to decompress and take downtime to better their mental health.
Employee health
Similarly tied into presenteeism, taking the pressure away from employees to perform when sick has been a focus point for employers when revamping their benefits. Healthy employees are happy employees and more and more employers have been considering private healthcare plans including easier access to GPs, prescriptions, and discounted medical treatments.
Happier employees
A final focus for employers to consider is the general day-to-day happiness of their workforce. Many employers are looking at what they can do to make their workplace culture better and increase overall morale. This often includes team socials, recognition schemes to celebrate their work, and getting involved with CSR initiatives to make them feel like they're making a difference and their work has purpose and meaning.
What are people looking for in their employee benefits?
When we surveyed our legal candidates in Cardiff across a range of seniorities, it was clear across the board that what people valued most was a more modern, flexible way of working – whether that was the ability to work from home, or flexibility on their core hours. That's not just specific to the legal sector, either. Many surveys estimate that flexible working is important to between 87-94% of the population and that nearly half of employees would consider leaving their job if flexible working wasn't an option.
Other benefits we've seen people request included increased holiday entitlement, better maternity/paternity packages, and private healthcare – that's on top of the already newly established benefits implemented by companies that often include mental health days and CSR initiatives.
On a smaller scale, Chloe Thomas, java specialist here at Yolk garnered information from LinkedIn to discover her connections valued flexible working as their most valued benefit in their benefits package. Similarly, a poll looking at flexible working arrangements found that 55% of respondents liked a hybrid working model with 3 days maximum in the office. Unsurprisingly, only 7% of the 244 voters preferred a fully in-office mode of working.
​
​
Ultimately, you should know your employees better than anyone. Take a moment to listen to them – what do they want? What would they like to benefit from? What would make them happier in their role? Survey your staff. By creating a culture of open and honest feedback, you can learn what's on the minds of your employees and make amends within reason to change things for the better. We would advise taking this feedback to heart too and try not to be too offended by what you hear. It's a good thing your colleagues feel empowered to let you know what went well and what could be improved upon.
What we did
At Yolk Recruitment, we've always acknowledged that to truly become bright, bold, and better we would need to make everyone who works for us feel truly appreciated for us to produce our best work. We're building a culture where everyone wins, so we reflected on our old benefits package and asked ourselves if the benefits in place had enough of a tangible impact for the diverse workforce we have today. In the current climate, we concluded that what we had wasn't enough.
We took the time to look at the wide range of people that work with us and realised that in different stages of life people value different things. In order to understand what our diverse workforce find most important in employment benefits, we held our annual staff engagement survey and proudly retained & invested in every benefit that has tangible impact to all across the business.
At Yolk, we've always offered and retained;
Enhanced Holidays

Christmas Shutdown

Birthday day off

Annual Company Holiday

Hybrid Working

Pension

Industry leading sales commission

Industry leading training (internal and external)

Career Development pathways

Regular socials

Cycle to work scheme

Christmas shopping spree

Annual Beaujolais event

Director's Lunch Club for our high achievers

Quarterly trips based on employee nominations that go above and beyond living our values

CSR Projects that invest & give back to Welsh communities
We have now added to this by investing in;
Private Health Care Plans

On Demand GP

Enhanced Maternity

Enhanced Paternity

Death in Service

Critical Illness

Annual leave ranging from 33 to 43 Days

Financial Planning service

Professional and confidential well-being service

£1000/year of shopping savings

Discounted rewards including Cinema & Health Clubs
​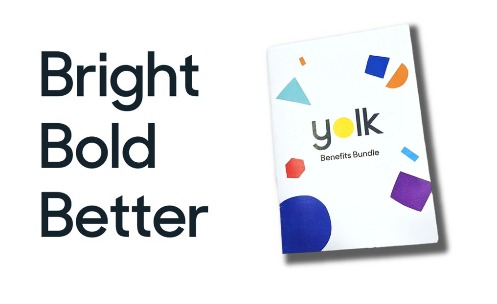 Pavan Arora, Chief Commercial Officer at Yolk had this to say about our benefits overhaul:
"This internal project has been a genuine pleasure to work and months in the making, thank you Kevin Evans for all the work behind the scenes and Dale Williams for pushing us to go two steps further for our people at every point. We are happy to share our journey and process with others looking at modernising a benefits package fit for the future - it's a big project once you get started!"
As part of our values of being bright, bold and better, we push ourselves further for our people at every step. By increasing our benefits, we hope to attract and retain a wide range of talented people who will grow with us as we grow their careers. We are proud to have a benefits package that reflects our diverse workforce and to continue building a culture where everyone wins.
For more information on improving your business benefits, speak to Pavan Arora - pavan.arora@yolkrecruitment.com .
Interested in a career at Yolk and experiencing these benefits yourself? Get in touch with Mali Fordyce to hear more about our open vacancies.
​